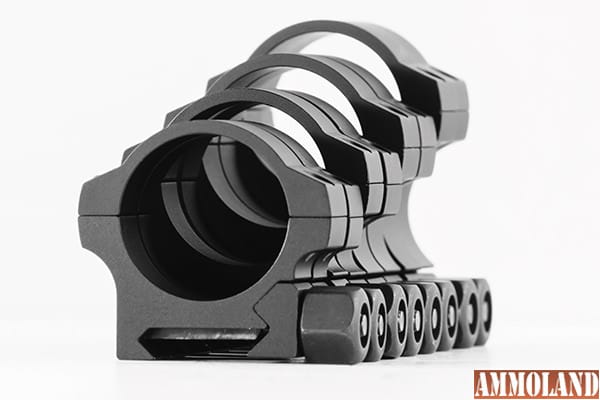 Orofino, ID -(AmmoLand.com)- Nightforce Optics has added several items to its growing line of shooting accessories.
New are Standard Duty Rings, providing an ideal combination of durability and value. Available in .90, 1.00, 1.25 and 1.50 inch heights for 30mm tubes, the straightforward two-screw design of the new Standard Duty Rings require less front-to-back mounting space, ideal where installation choices are limited.
A positive locking jaw design and machined recoil lug provide perfect alignment and superior accuracy when mounted to Mil. Std. 1913 bases (also available from Nightforce). These new rings are a quality option available to shooters for under $100 retail.
The new Nightforce MultiMount was originally designed as a platform for close-range sights to be mounted in conjunction with a primary riflescope. The MultiMount offers far more versatility, however, functioning as a user-configurable system providing a rock-solid base for any Mil. Std. 1913 accessory that will fit. Designed to replace the top half of an X-Treme Duty ring, the MultiMount allows placement of a Mil. Std. 1913 rail at the 45-degree left, 45-degree right and/or 90-degree up positions. Two rail sections are included, along with mounting hardware. The MultiMount is available for 30mm and 34mm X-Treme Duty rings.
The RAP (Ruggedized Accessory Platform) provides four inches of Mil. Std. 1913 rail space above a riflescope for the mounting of lasers, illumination tools and other accessories. Replacing the top half of Nightforce four- and six-screw X-Treme Duty rings, the RAP will withstand heavy recoil and still maintain zero even with delicate accessories or sensors.
The new Compact Magmount adds to the tough and reliable Nightforce Xtreme-Duty Ultralite Unimount and Magmount mounting systems, with titanium/aluminum construction providing the performance of steel at half the weight. The Compact Magmount requires less rail space than the traditional Magmount, and is available to fit 30mm and 34mm riflescope tubes. Options available include both zero MOA and 20 MOA of taper.
Nightforce manufactures an extensive array of rings, mounts, bases, and related accessories created to maximize accuracy and performance, especially when used in tandem with a Nightforce riflescope.
For more information call 208.476.9814 or visit www.NightforceOptics.com.
About Nightforce Optics:
All of us at Nightforce Optics will do our best to ensure the postings on our page are in line with our mission. We expect that users will not post content that falls into the following categories and reserve the right to remove postings that are: abusive, defamatory or obscene; fraudulent, deceptive or misleading; in violation of another's intellectual property rights; in violation of any law or regulation; otherwise offensive.
For more information, visit www.NightforceOptics.com.