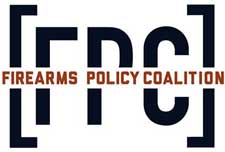 LOS ANGELES –  -(Ammoland.com)- Earlier today, 11 individuals and 4 nonprofit civil rights organizations filed a new federal equality lawsuit against the State of California and Attorney General Kamala Harris, arguing that that state's many special statutory exemptions to gun laws for retired "peace officers" are a violation of their Fourteenth Amendment constitutional rights.
According to institutional plaintiff Firearms Policy Foundation, the new lawsuit's purpose is to strike down as unconstitutional a number of exemptions that shield retired "peace officers" from the criminal provisions of California Penal Code Section 626.9, otherwise known as the "Gun-Free School Zone Act of 1995", because retired "peace officers" and regular law-abiding people should be treated the same under the Equal Protection Clause.
Since 1923, when California first enacted concealed carry regulations, the state has allowed Californians who obtained a handgun carry permit from their local sheriff or police chief to carry in almost all public places, including on college and university school grounds.
Notably, the same has not always been true of retired "peace officers," who have an easier time getting a carry license than do most law-abiding people.
The Legislature passed Senate Bill 707 in late 2015, drastically expanding the scope of the "Gun-Free School Zone Act" to criminalize the possession of handguns on all public and private school and university grounds – even by trained carry licensees with threats against their life.
Retired "peace officers" fared far better against the changes, however. As it was initially proposed, SB 707 would have broadly eliminated handgun carry on campus for virtually everyone except on-duty police or others specifically authorized to assist in an emergency.
But anti-gun "peace officer" political associations were quick to respond.
Their powerful government employee association lobbyists immediately offered their full support of SB 707 – but only if the gun control bill was amended to exclude their retired members from the carry crackdown and allow them to continue carrying their personal firearms on school grounds whenever and however they pleased.
The Legislature delivered on those amendments and then some, adding even more exemptions for public employee association members before passing the bill.
In spite of a massive public outcry and over 40,000 Californians sending in letters of opposition, Governor Brown signed SB 707 in October.
Thus, say the plaintiffs, when SB 707 took effect on January 1 2016, it established preferential treatment for retired "peace officers" over and above the rights of law-abiding private citizens approved to carry a handgun, despite the fact that retired "peace officers" are not authorized to engage in law enforcement activities any more than their fellow private citizens.
SB 707's favorable treatment applies to a wide list of retired government employees whose jobs involved "enforcing" the law, including retired IRS agents, retired employees of the California Fish and Game Department, and retirees from the Department of Parks and Recreation.
"The Ninth Circuit has already held that there is no rational basis for the State to treat retired "peace officers" more favorably than law-abiding members of the general public when it comes to limiting access to firearms, yet that's exactly what Senate Bill 707 did," explained Bradley Benbrook, lead counsel for the plaintiffs.
In its 2002 Silveira v. Lockyer decision, the federal Ninth Circuit Court of Appeals struck down a California law that gave retired law enforcement officers special exemptions from the Assault Weapons Control Act.
That decision was reinforced in a 2010 legal opinion issued by then-Attorney General Jerry Brown. In his opinion, Brown explained that "Silveira teaches that it is….a peace officer's role as a law enforcement agent that provides a rational basis for distinguishing between a peace officer and a private citizen for purposes of possessing and using assault weapons. A retired officer is not authorized to engage in law enforcement activities."
"As both a parent and a school board member, I believe it's important that our children see that the justice system does not allow the government to play favorites among its residents," said Craig DeLuz, an individual plaintiff in the case. "I can't stand idly by and watch as the Legislature discriminates in favor government employee retirees over Californians who didn't work for the government."

"This lawsuit is about making sure that big government special interests ­– like 'peace officer' associations – can't continue to sell out law-abiding people for special favors and political perks," said Brandon Combs, chairman of Firearms Policy Foundation.

"In filing this important equality lawsuit, we have fulfilled our promise to the Legislature, the special interests that supported Senate Bill 707, and our supporters," concluded Combs. "Law-abiding California gun owners are not second-class people with fewer civil rights simply because they didn't hold down the right government job."
In order for a person to acquire a carry license in California, a person must prove their residence, pass a rigorous background check, complete a police-approved training program, pay significant fees, prove their good moral character, and persuade their sheriff or police chief that they have "good cause" to carry, such as extreme personal risk or documented threats.
Additionally, a California carry licensee must maintain their clean background check and documented proficiency in order to renew the license, and even then the issuance of a renewal license is entirely up to the discretion of their local sheriff of police chief.
SB 707's broad exemption for retired "peace officers" does not require that all exempted persons maintain a background check or training in order to carry handguns onto California school grounds.
The complaint for Garcia, et al. v. Attorney General Kamala Harris can be downloaded or viewed at https://www.sb707lawsuit.com/wp-content/uploads/2016/04/2016-04-14-Garcia-v-Harris-Filed-Complaint.pdf.
Firearms Policy Foundation (www.firearmsfoundation.org) is a 501(c)3 nonprofit organization. FPF's mission is to protect and defend the Constitution of the United States and the People's rights, privileges and immunities deeply rooted in this Nation's history and tradition, especially the inalienable, fundamental, and individual right to keep and bear arms.
Firearms Policy Coalition (www.firearmspolicy.org) is a 501(c)4 nonprofit organization. FPC's mission is to protect and defend the Constitution of the United States, especially the fundamental, individual Second Amendment right to keep and bear arms.
Madison Society Foundation (www.madison-society.org) is a 501(c)3 nonprofit organization. MSF's mission is to serve and protect the Second Amendment rights of the law-abiding residents of the United States.
The Calguns Foundation (www.calgunsfoundation.org) is a 501(c)3 nonprofit organization. CGF serves its members, supporters, and the public through educational, cultural, and judicial efforts to advance Second Amendment and related civil rights.