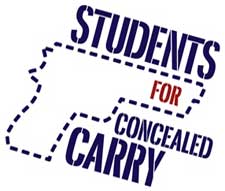 AUSTIN, TX – -(Ammoland.com)- In keeping with the organization's long-held position that individuals should enjoy the same rights on college campuses as virtually everywhere else, Students for Concealed Carry fully endorses the burgeoning movement of Texas college students who wish to openly carry oversized dildos on campus.
Brian Bensimon, SCC director for the state of Texas, commented, "If carrying a phallus to class helps you express yourself, go for it. We welcome this demonstration that freedom of speech and concealed carry of handguns can coexist on the same campus."
SCC does recommend, however, that students use their dildos for political or recreational purposes only.
Using a dildo as a defensive weapon could classify it as a "club," which, under Texas law, is illegal to carry in public and constitutes a felony if carried into a building on campus.
Bensimon added, "Although SCC's opinion shouldn't be taken as legal advice, we feel that Texas students are on pretty solid legal ground as long as they use their dildos only as expressions of free speech or for the manufacturers' intended purpose."
ABOUT STUDENTS FOR CONCEALED CARRY — Students for Concealed Carry (SCC) is a national, non-partisan, grassroots organization comprising college students, faculty, staff, and concerned citizens who believe that holders of state-issued concealed handgun licenses should be allowed the same measure of personal protection on college campuses that current laws afford them virtually everywhere else. SCC is not affiliated with the NRA or any other organization. For more information on SCC, visit ConcealedCampus.org or Facebook.com/ConcealedCampus. For more information on the debate over campus carry in Texas, visit WhyCampusCarry.com.
RELATED: