By John Crump
Gun writer John Crump tests out the Rekkr Custom Kydex Geisa IWB Holster, here is his after-action product report.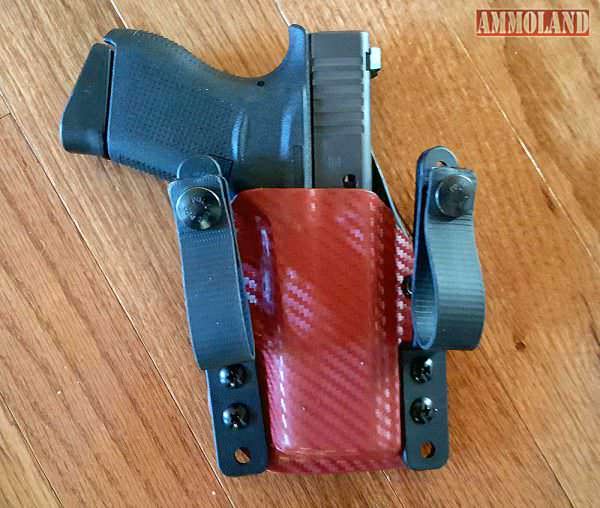 USA –  -(Ammoland.com)- Being a writer has some perks. One of the perks is being able to try out gear shortly after or even before it hits the market. I had that chance here.
I contacted Rekkr Custom Kydex to buy a custom sheath for my Ka Bar Becker BK1 knife and to my surprise they recognized my writing and offered me a chance to try out their new "Geisa" inside the waistband holster that at the time had not come out.
I purchased the Geisa at a discounted price. As of this writing it is available for purchase here.
Rekkr Custom Kydex Geisa IWB Holster
Rekkr (Old Norse for "warrior.") Custom Kydex is a US based holster company that offers custom made holsters as well as off the shelf holsters. They have a wide selection of holsters not only for guns but sheaths for knives. I found Rekkr Custom Kydex because the sheath that Ka Bar provides with their Becker BK2 Knife is terrible.
I was referred to Rekkr because of a recommendation of a friend. I had an idea for a knife sheath and was told they would work with me to create it. Unfortunately my idea would not work and the people at Rekkr took the time to explain why.
The holster I purchased to review was their new Geisa line which is Old Norse for "Rage". This holster is designed for compact and subcompact pistols. It has a small footprint, an adjustable cant, and adjustable height. I decided to try it out with a Glock 43 that I have used to review other holsters (Alien Gear Cloak Tuck 3.0).
The cosmetics of the holster's design are beautiful. The deep red with a carbon fiber pattern matches the name. It comes off as aggressive yet elegant. There are more kydex choices available, but this design just lends itself to the holster. It has a footprint that matches the type of firearm it is designed to carry. My only complaint would be the fabric loops that holds the holster in place. This was partially my fault for going against my gut feeling.
I wanted to try their holster out as is. I have never been a fan of fabric loops and you can substitute plastic clips for the loops through Rekkr, but once again I went against my better judgement by going with the loops. To me fabric loops gives the holster too much play and doesn't hold as well as the plastic clips would hold. Some people swear by them, but I am not one of them.
I wore this holster at the 5 o'clock position at first. The printing was minimal even compared to my Alien Gear Cloak Tuck 3.0 holster. The Alien Gear is more comfortable, but with this holster you get better concealment. Like most decisions there are tradeoffs. You give up a little comfort for better concealment.
This is a personal choice and it comes down to how long you carry for and where you carry.
Concealment isn't the only thing you get though. I also wore the Rekkr Custom Kydex Geisa IWB Holster as an appendix carry. I have not found a holster that is comfortable enough to appendix carry consistently, but this holster by far comes the closest. I was able to carry comfortably when walking and sitting. With some time I could become a convert to appendix carry.
The retention on the Glock 43 was perfect with no adjustment needed. It held up through the shake test. For the shake test I hold the holster upside down with the firearm in it and shake it. The retention is tight but not tight enough to interfere with the draw or the reholstering of the firearm.
The draw was perfect from 5 o'clock and the appendix carry position. I was able to clear my shirt without issue and draw the gun on target. The holster did not catch on my shirt at all. One of the biggest dangers of the concealed carry draw is getting your shirt caught on the holster when drawing or even when just walking around.
After a smooth crisp draw from the Rekkr Custom Kydex Geisa IWB Holster I was able to put rounds on target and re-holster the firearm with no issue. The firearm slid tightly into the holster and held in place. I would have no problem depending my life on this holster by getting the gun drawn on the bad guys.
You can tell a lot of thought went into this holster. When a company takes pride in their products it shows. I can say beyond a shadow of a doubt that Rekkr Custom Kydex shows pride in their workmanship and products. I would recommend this product.
Rekkr Custom Kydex can be found on the web at http://rekkrcustomkydex.com/
Rekkr Custom Kydex Holster Score:
Quality 4.5/5
Look 5/5
Comfort 4/5
Value 4/5
Customer Service 5/5
About John Crump
John is a NRA instructor and a constitutional activist. He is the former CEO of Veritas Firearms, LLC and is the co-host of The Patriot News Podcast which can be found at www.blogtalkradio.com/patriotnews. John has written extensively on the patriot movement including 3%'ers, Oath Keepers, and Militias. In addition to the Patriot movement, John has written about firearms, interviewed people of all walks of life, and The Constitution. John lives in Northern Virginia with his wife and sons and is currently working on a book on the history of the patriot movement and can be followed on Twitter at @crumpyss or at www.crumpy.com.