MUSKEGON, Mich. -(Ammoland.com)- Flash back to the year 1992. Science was driving new technologies at a rapid rate.
Take, for example, the must-have videogame console that ruled the decade prior; the Atari 2600 was discontinued after being outdone by the graphics created by competing brands.
IBM introduced Simon, the touchscreen mobile phone and personal assistant, considered today to be the first ever smartphone. UNIX released ViolaWWW, the first popular web browser.
Now ponder the technologically advanced devices that have replaced those newfangled products of their age. What was once high-tech is considered archaic by today's standards.
But not all of it.
It wasn't just new-and-improved electronics that were being fashioned in 1992; a Michigan hunter named Greg Sesselmann conceived a solution for keeping a deer hunter's aroma from wafting through the woods that same year.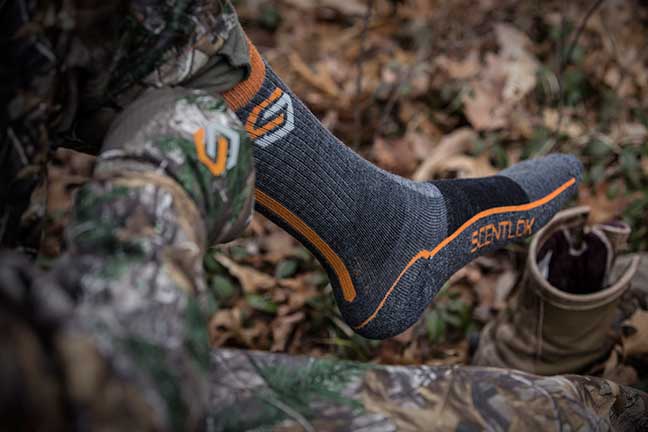 No, not by covering it with a few spritzes of foul-smelling spray—which was the only option up to that point—but by creating an all-new hunting suit that was able to capture and contain scent before it could escape using activated carbon.
A small company was born in Muskegon, Michigan that year, and 25 years later, ScentLok Technologies remains the clear leader in the product category they invented.
Today's diverse line of ScentLok apparel using patent-pending Carbon Alloy technology is the most effective odor-adsorbing clothing available.
Since day one, the folks at ScentLok have never taken shortcuts. Whether developing new products, rebranding and entering new markets, engaging with their customers, or building one of the deepest and most respected pro-staffs in the industry, ScentLok has insisting on doing things right, which is why they've partnered with the established outdoors PR pros at Traditions Media to represent their hardworking brand and products.
"Everyone at ScentLok is ecstatic about teaming up with Traditions Media," states Nick Andrews, VP of Marketing for ScentLok Technologies. "Their respected communications team has the depth, experience and reach to evangelize our messaging to all corners of our expanding industry, while also serving as a conduit for valuable feedback. The archaic days of marketing being a one-way street are gone. A company built on technology like ours must listen in order to maintain success. The Traditions team is uniquely positioned to help deliver valuable feedback from industry influencers and consumers on what products and technologies they want in the future. We value the hunting community too much to deliver anything less than their highest expectations in exchange for their hard-earned dollars."
 "Traditions Media has grown so much in the hunting space; it was just a matter time before we partnered with a premium apparel company," says Noel Vick, President of Traditions Media. "We couldn't be more excited about that partner being a legacy manufacturer like ScentLok. They are the pioneer in scent control for hunters, and the clear segment leader."
"Beyond promoting their core hunting apparel, we're equally jazzed about showcasing ScentLok's latest innovations in season-specific outerwear, base layers, socks, headwear and handwear," Vick continues. "And with women driving much of the growth in today's hunting market, we're extremely happy to be working with a company offering so many exceptional products for female hunters."
ScentLok Technologies is celebrating 25 years of excellence in scent-control apparel in 2017. Hunters and industry professionals are advised to stay tuned for a variety of exciting upcoming announcements.
About Traditions Media, LLC:
Traditions Media, LLC is a fishing, hunting, tactical and shooting-sports marketing group specialized in public relations, media communications, influencer marketing, social media and media buying. Our partners include Ameristep, Aqua-Vu, Avian-X, Clinically FIT, Custom Jigs & Spins, Evolved, Fin-Wing, Flextone, FLIR OTS, Frabill, Halo, Old Town Canoes & Kayaks, Ocean Kayak, Plano, Raymarine, Seaguar, ScentLok Technologies, St. Croix Rod, Tenzing Outdoors, Wildgame Innovations and Zink Calls.
Learn more on their website.
About ScentLok:
ScentLok Technologies, headquartered in Muskegon, MI, USA, is a leading worldwide designer, marketer and distributor of performance, hunting and casual odor-controlling apparel, footwear and equipment. Founded in 1992 on scientific principles, ScentLok is the only company with access to all scent-controlling technologies including their patented activated carbon technology, which is consistently proven to outperform other technologies tested. ScentLok is a pioneer in the hunting industry, which many credit with creating a market based on the elimination of odors to get closer to big game.
For more information, visit their website.