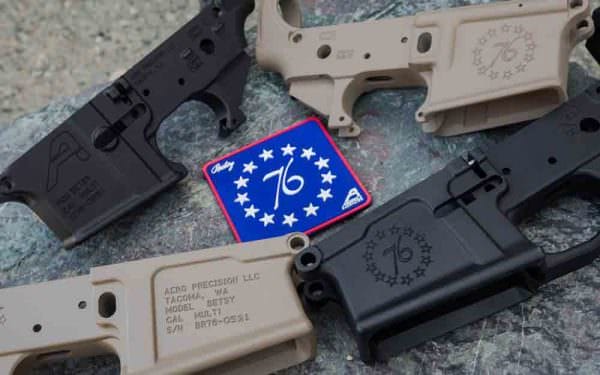 U.S.A. –-(Ammoland.com)- The Aero Precision Special Edition: Betsy Ross products feature a design based on one of the most popular American Revolution flags, with it's 13 stars symbolizing our original 13 colonies. Betsy Ross is widely credited with making the first American flag. The addition of the 76 evokes the Spirit of '76, referring to the self-determination and individual liberty set forth by the Declaration of Independence signed on July 4, 1776.
This custom graphic is displayed on the receivers. The lower receivers feature the graphic engraved on the magwell of the receiver with a custom "BETSY" model and "1776-XXX" serial number designation. The upper receiver features the "76" graphic laser etched on the rear tang of the receiver.
All Special Edition: Betsy Ross Lower Receivers include a commemorative Betsy Ross patch. This patch is limited to those who purchase a Special Edition: Betsy Ross Lower Receiver either individually or in a receiver set. It is not available for individual sale.