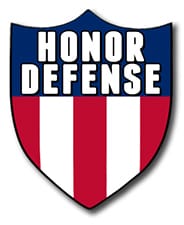 U.S.A. –-(Ammoland.com)- Honor Defense is pleased to announce a partnership with Sportco Marketing for sales and marketing in the Midwest.
Honor Defense has quickly established itself as the 100% American single stack 9mm with more features than any other pistol. Noted as the best single stack 9mm available by several Reviewers, Honor Defense takes pride in building the best quality single stack 9mm.
"Unlike some large commodity brands, we build quality into our pistols. Honor Defense has more features than any other CCW pistol and we do it with 100% American parts. To compete with a quality lineup of firearms, when common brands are promoting heavily, you need passion for the category and product," said Gary Ramey, Honor Defense President. "Sportco has that passion and they are a great fit to the Honor Defense brand."

"We are excited to partner with Honor Defense," said Heidi Cordle of Sportco. "They are committed to excellence and customer service, as well as using American parts and veterans assemble every firearm. It is an honor to work with them."
Sportco was founded in 1991 by hunting and fishing enthusiasts. Employing sales reps with a deep passion for the industry, Sportco believes that one of the most important jobs of a sales agency, assisting the dealer in selling through to the consumer. They work very closely with top dealers and the brands they represent.
Based in Ohio, Sportco (sportcomarketinginc.com) will be representing the Honor Guard in Illinois, Indiana, Kentucky, Michigan, Minnesota, Ohio, South Dakota, North Dakota and Wisconsin. Stores in these areas that are interested is selling the best single-stack 9 mm pistol on the market should contact Sportco at 800-257-4927.
For more info about Honor Defense, please visit www.honordefense.com.
About Honor Defense
Honor Defense firearms represent the next generation of modular handguns. Honor Defense firearms have more features than any other sub-compact pistol. Every part is manufactured in the U.S.A. to our highest standards. You can't buy a better pistol right out of the box. To create their pistols, Honor Defense secured input from a panel of professionals that have defended our nation or have extensive credentials in self-defense training.