GRANTS PASS, OREGON —-(Ammoland.com)- Noveske Rifleworks is proud to announce the Ghetto Blaster Rifle — the introductory rifle configuration on our new Gen 4 platform. This lightweight rifle (5.25lbs in the short configuration) features a customized version of our new Gen 4 receiver set, collapsible stock and Noveske Rail system (MLOK or Keymod option). Adapted to accept a collapsible stock, the receiver set also includes ambidextrous controls, flared mag well, and new geometry relative to our Gen 3 set. Additionally, the rifle features a Magpul grip, adjustable gas block, and Geissele SD-E trigger. We teamed up with Kevin Brittingham and his team at Q to incorporate the collapsible stock and BCG in this rifle.
At launch, there will be three configurations available for pre-order:
7.94" 5.56 Stainless barrel, w/7" NHR
7.94" 300BLK Stainless barrel, w/7" NHR
16" 5.56 CHF barrel, w/15" NHR
Other configurations available in Q1 2018 include: Suppressed 300BLK Model (Ghetto Blaster NSD), as well as 10mm.
Pre-sale starts today with the first 100 rifles sold receiving a 10% discount. Rifles on pre-order will begin shipping in December.
Base price starts at $1995.
About Noveske Rifleworks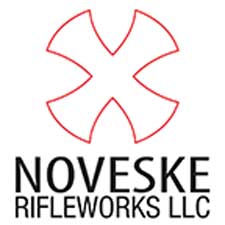 Noveske Rifleworks was formed in 2001 by John Noveske. Noveske Rifleworks is a leader in the industry, known for its rifles featuring an extended life competition grade barrel, improved 5.56mm chamber, KX3 muzzle device, the Switchblock gas block system and the NSR lightweight rail system. Noveske Rifles are highly sought after by both operators in the field and gun enthusiasts for their 'No Compromise' quality and reliable function.