U.S.A. – -(Ammoland.com)- "It's almost like the world is becoming blind," musician Stevie Wonder proclaimed as he called for more citizen disarmament at the Los Angeles Staples Center memorial service for murdered rapper Nipsey Hussle last Thursday.  "It is so painful to know that we don't have enough people taking a position that says, 'Listen we must have stronger gun laws.'"
As gun owners have come to expect, what and how much stronger those laws must be is left undefined. Seeing as how "California's smart gun laws" are being promoted as "a blueprint for the nation" by Gungrabby Gabby & Co., and LAPD "has moved to cancel most of the few remaining concealed weapons permits in civilian hands," it would seem the only thing left would be to ban gun ownership entirely.
That's what the goal is, of course, protestations of "common sense gun safety" from useful idiots and agenda-driven liars notwithstanding. And that would be curious indeed in this case, at least to sell to a community being told LAPD contracted the hit on Hussle. Yes, it sounds desperate and ridiculous, but the meme is attracting supporters making fair the question: Why would those who actually believe that want the cops to be the "Only Ones" armed?
As for the alleged assassin, we appear to have another real prize.
Per TMZ, the ironically-named Eric Holder, who "walked" his gun over to Hussle a second time after his first shots failed to kill his victim, is charged with "1 count of possession of a firearm by a felon."
"Holder has a long rap sheet with a history of domestic violence and weapons charges. Because of his record, he was previously ordered not to 'own, use or possess any dangerous or deadly weapons, including firearms, knives or other concealable weapons.'"
For some reason, the E-Trade baby comes to mind.
Add to that a curiosity about Hussle himself: One of the collateral victims who was shot with him and survived "was arrested … for associating with a known gang member — namely, Nipsey. One of the standard conditions of parole is not associating with known gang members, and police claim Nipsey was a member of the Rollin 60's Crips."
Is anyone else getting the feeling that passing "stronger gun laws" against you and me will do nothing to deter repeats of such crimes?
Wonder is a great composer, musician, and performer, no argument, and his achievements, particularly in light of his lifelong disability, are remarkable and admirable. When he gets out of his lane he can be just as ignorant as your average Demanding Mom.
So despite "Stand Your Ground" not being part of George Zimmerman's defense in the Trayvon Martin case, Wonder pledged to boycott states that have such laws. That's despite, per economist, author and Crime Prevention Research Center President John Lott's testimony before a Senate Judiciary Committee subcommittee, the reality that:
"Poor blacks who live in high-crime urban areas are not only the most likely victims of crime, they are also the ones who benefit the most from Stand Your Ground laws. The laws make it easier for them to protect themselves when the police can't be there fast enough. Therefore, rules that make self-defense more difficult disproportionately impact blacks. Blacks may make up 16.6 percent of Florida's population but account for 31 percent of the state's defendants invoking the Stand Your Ground defense. Black defendants who invoke this statute to justify their actions are actually acquitted 8 percentage points more frequently than whites who use this very same defense."
With a net worth estimated at $110 Million, Wonder may have forgotten what that's like, especially since he can easily afford the "sky-high cost" of his celebrity bodyguards. He's apparently also detached from the ravages and violence of the underworld drug trade in such communities as exemplified by one of his former bodyguards convicted of "supplying the strong painkiller OxyContin to two Manassas drug dealers."
But "listen, we must have stronger gun laws," right?
There are none so blind as those who will not see.
---
About David Codrea: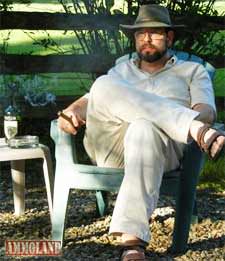 David Codrea is the winner of multiple journalist awards for investigating/defending the RKBA and a long-time gun owner rights advocate who defiantly challenges the folly of citizen disarmament. He blogs at "The War on Guns: Notes from the Resistance," is a regularly featured contributor to Firearms News, and posts on Twitter: @dcodrea and Facebook.