U.S.A. – -(Ammoland.com)-  "Mexico … threatened to take legal action against the United States for failing to protect its citizens after [the] mass shooting in the border city of El Paso," NBC News reported Aug. 4. "Of the 20 people gunned down at a Walmart adjacent to the Cielo Vista Mall, at least seven were Mexican citizens, and Foreign Minister Marcelo Ebrard promised Mexico City will act."
The complaint is hypocritically ironic on four levels.
The government of Mexico encourages and abets in the deliberate violation of  U.S. immigration laws. If we tried to emulate and enforce supposedly strict Mexican immigration laws, the "open borders" crowd would go nuts and deem it racist and xenophobic. And contrary to Ebrard's claim, demographics notwithstanding, El Paso is not a "binational" city, it's an American one, and the "supreme law" is still the Constitution.
The second level, if they insist on making a "numbers game" out of human lives, would have to consider American lives lost in Mexico. American Thinker notes:
"[M]ore Americans … have been killed in Mexico than all the remaining countries of the world combined."
The third level where the foreign minister again fakes ignorance of U.S. law is by presuming our government has a duty to protect Mexican citizens.  Unless a "special relationship" exists, such a duty does not even extend to American citizens, as attorney Richard W. Stevens thoroughly illustrated in his now-classic "Dial 911 and Die." The Supreme Court ruled on that in 2005 and it has been continually reaffirmed by federal courts. As the Mises Institute noted in a 2018 analysis:
"Police can watch someone attack you, refuse to intervene and not violate the Constitution."
That makes citizen disarmament edicts mandating "gun-free zones" or forbidding the bearing of or choice of arms all the more evil. Criminals in government, under strict orders not to infringe, dictate to the people that they not only won't protect them, but they also won't allow them to protect themselves.
That's what Ebrard and his "monopoly of violence" co-conspirators on this side of the border are really after, for U.S. "gun laws" to be more like Mexico's. But unlike with immigration laws, they want disarmament to be enforced — and of course with no corresponding duty to protect.
Here's the curious thing, and the fourth level of ironic hypocrisy by Mexican officials – consider the results of their "commonsense gun safety laws." Compare violence in El Paso to that of its conjoined twin across the border, Ciudad Juárez, with its "restrictive gun laws."
"El Paso among 'Top 10 Safest Metro Cities' in U.S. for 2019," the El Paso Times reported earlier this year. "Despite border and immigration controversies, El Paso preserves its reputation as one of the safest metro cities in the nation."
"2018 ended as one of the deadliest years for Ciudad Juárez in recent times," ABC's KVIA 7 noted in January. "El Diario de Juárez reported there were 1,247 homicides, a number comparable to the most violent era for the city from 2008 to 2011."
A parable about a mote and a beam comes to mind. That and the terrifying realization of what the socialists culturally terraforming the Founders' Republic intend to turn us into.
---
About David Codrea: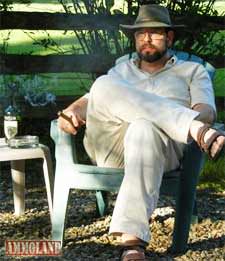 David Codrea is the winner of multiple journalist awards for investigating/defending the RKBA and a long-time gun owner rights advocate who defiantly challenges the folly of citizen disarmament. He blogs at "The War on Guns: Notes from the Resistance," is a regularly featured contributor to Firearms News, and posts on Twitter: @dcodrea and Facebook.