Opinion
USA – -(AmmoLand.com)- Three dedicated, hard-working, thoroughly committed NRA directors have resigned their seats in protest of the leadership's heavy-handed tactics, and the inability to gain access to information critical to them fulfilling their fiduciary responsibilities. Ester Schneider, Tim Knight, and Sean Maloney tendered their resignations this morning, and they were, I suspect, gleefully accepted by President Carolyn Meadows. I'm very disappointed to see them go, but know that they will continue the fight.
These resignations of 3 of the six directors who have had the gumption to call for an independent audit of the association, highlight the core issue that all of this wrangling boils down to ~ The issue of trust.
Whether or not Wayne LaPierre participated in the financial misdeeds that were clearly going on at the NRA for well over a decade… Whether or not he has been correcting the ship over the past year or so… And whether or not LaPierre is personally orchestrating the obstruction and stonewalling that's going on… The fact is, the original lawsuit against Ackerman McQueen, is, all by itself, a public confession that the Association management was not being prudent and responsible with the members' money. That, along with the wide array of evidence that has come out regarding conflicts of interest, nepotism, cronyism, and clear incompetence in the case of Carry Guard™, combine to form a damning indictment of the man at the top, who was tasked with overseeing all of those things, and of the board of directors that was tasked with overseeing the man at the top. LaPierre must bear the responsibility. That's where the buck stops.
There's no doubt that this scandal has damaged the trust relationship between the NRA and its members, and seriously damaged the NRA's brand. Now the question is, what course can restore trust and revive the brand the fastest and most effectively. Doggedly insisting that all is well while supporting the person responsible for the damage and loss of trust, is a failing strategy. Insisting that only LaPierre can save us and that without him, the NRA will fall, resulting in Donald Trump losing the presidency, and Republicans crashing in 2020, is simply ludicrous. But that's the public position being advanced by LaPierre loyalists on the NRA board. (See "What's Really Going On Inside NRA Operations" by Director Scott Bach)
Ronald Reagan famously said; "Trust, but verify." That's as good an idea in business and effective nonprofit organizations, as it is in nuclear disarmament. If we, the members and supporters of the NRA, are going to trust the NRA and its leadership, we must verify that our money is being spent wisely and responsibly. To that end, it is imminently practical and reasonable for the board to commission an independent audit of the NRA, with special attention being paid to areas of particular concern, such as fundraising, executive compensation, conflicts of interest among staff and directors, and legal expenses.
Rather than answer the recent spate of myopic excuse-making from various members of the NRA Board of Directors, I'd like to invite those, and all of the remaining 73 directors, to answer five simple questions:
1. Why does Josh Powell still have a job at the NRA after his thorough bungling of Carry Guard™?
2. How is it even remotely possible for a law firm with only about 10 attorneys and a total of 30 to 40 employees, to validly bill between $90,000 and $100,000+ PER DAY for their services?
3. Have you personally reviewed the documentation related to the issues raised by Emily Cummins in her briefing notes for the Audit Committee and her letter regarding William Brewer, or have you simply taken someone's word for it that these things have been "reviewed, vetted, and approved?"
4. What do you expect the response would be if you asked to see this information or publicly supported the idea of ordering an independent audit?
5. What possible, rational reason can you offer for Wayne LaPierre blocking any sort of independent audit of the Association's books and business practices?
As I said in the opening of this column, everything going on at the NRA boils down to trust. Do the members trust the leadership? I would submit that it is obvious that a large percentage do not.
Whether that mistrust is founded in rational thought, irrational emotion, or some sort of vast left-wing conspiracy, is irrelevant. What matters is that there is a trust deficit that must be addressed if the NRA is to move forward. Reassurances from directors and dire warnings about potential political consequences, will not restore trust. Casting aspersions on those of us asking questions and calling for transparency, will not restore trust. Neither will suing everyone who dares to challenge the status quo.
What will restore trust, is openness and honesty – verified by documentation.
I personally believe that Wayne LaPierre should have resigned long ago, and if he truly cared about the NRA and its mission, he would have fallen on his sword the moment the allegations of impropriety (which have never been refuted, or in large part, even denied, by the way) were made public. No one is irreplaceable. It is ridiculous to think that major donors only give what they do because of their relationship with Wayne LaPierre. That would be remarkably shallow of them. Sure, those relationships – that trust – matter, but in the final analysis, it's the mission, not the man, that motivates people. Had Wayne stepped down sooner, he could have maintained those relationships and continued to support the cause, but now he's tainted himself and thrown mud on everyone around him, seriously compromising both his personal reputation, and that of the Association. That's a tragic shame, and the only way to regain the trust that has been lost is to earn it, through diligent work, full disclosure, and holding people accountable for their actions.
Donald Trump is not going to lose his bid for reelection due to the dysfunction within the NRA, and declaring that he will, is not going to solve the NRA's credibility gap.
Letitia James, the NY AG, is not going to be prevented from conducting a full audit of the NRA, by bogus lawsuits or personal endorsements from supporters of LaPierre. She has the full authority, under New York law, to examine all aspects of the NRA's operations, and you can bet she's going to exercise that authority with a vengeance. Conducting an independent audit in advance of her assault would not be detrimental to the NRA's cause. It would not provide her with ammunition that she couldn't get anyway, nor would it expose anything that she's not going to find. What it would do, is provide the NRA Board with the opportunity to identify problems, correct those problems, and address issues of accountability, before she and her audit team come in.
I predicted this situation back in April, before the Members' Meeting in Indianapolis, and advised that the board needed to take immediate steps to clean their house, identify any questionable actions, and correct them, and distance the Association from those responsible for those questionable actions. I pointed out that everyone at the NRA should know that they are under a magnifying glass, and must shun even the appearance of evil. The board didn't take my advice then, but they had better take it now.
Get your house in order. Regain the trust of the membership. That starts with identifying the areas that need work, and that means an independent audit.
---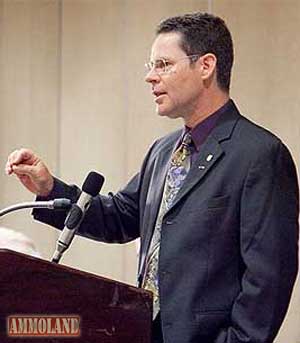 About Jeff Knox:
Jeff Knox is a second-generation political activist and director of The Firearms Coalition. His father Neal Knox led many of the early gun rights battles for your right to keep and bear arms. Read Neal Knox – The Gun Rights War.
The Firearms Coalition is a loose-knit coalition of individual Second Amendment activists, clubs and civil rights organizations. Founded by Neal Knox in 1984, the organization provides support to grassroots activists in the form of education, analysis of current issues, and with a historical perspective of the gun rights movement. The Firearms Coalition has offices in Buckeye, Arizona and Manassas, VA. Visit: www.FirearmsCoalition.org.