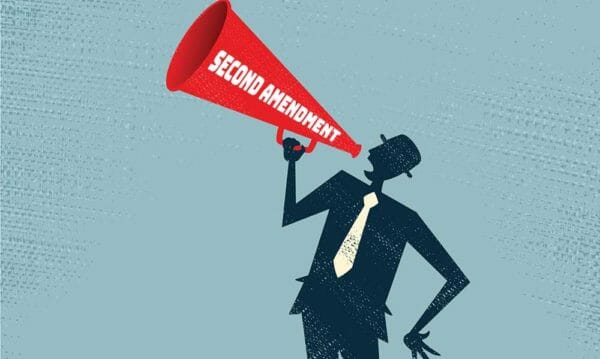 United States – -(AmmoLand.com)- Sometimes, defending the Second Amendment is a balancing act. In fact, this is the case far more often than not, and the best techniques are those that hit the right spot in a given situation. After all, we Second Amendment supporters rightly object to being lumped in with those who misuse their rights to commit horrific acts, especially when anti-Second Amendment extremists are pushing to inflict injustices upon us in the form of wrongly diminished liberty. The least we can do is show our fellow Americans the courtesy that anti-Second Amendment extremists are denying us and them.
When people are saying that just pointing to the Second Amendment should end the debate, they are either completely ignorant of nearly 150 years of history that proves otherwise, going back to Southern laws that were used to disarm African-Americans, notably recently-freed slaves, or they are gaslighting Second Amendment supporters. If that technique worked, or was in any way effective, we would not be in our present position, and our freedoms wouldn't be infringed as badly as they are in some states.
Given that track record, Second Amendment supporters need to tune out the self-appointed commissars who have counseled this strategy in the past and continue to do so today, and who heap abuse on those who suggest alternate paths. What they need to do is to first recognize whether the person is a committed anti-Second Amendment extremist like Michael Bloomberg or Eric Swalwell or if they might be reachable on the issue.
If the person is considering supporting a ban on modern multi-purpose semi-automatic firearms, but is potentially reachable, then it might be better to outline the facts about the issue in a calm, reasonable tone that helps you come across as someone who isn't just knowledgeable, but trustworthy. This is common sense.
Ask yourself, has Beto O'Rourke's increasingly strident and condescending tone towards those who don't immediately accept his push for an unjust Australia/New Zealand-style gun confiscation made you re-think your support of the Second Amendment? Do you feel less willing to defend your rights when Elizabeth Warren labels your defense of our rights corrupt?
Be honest now, the tone of O'Rourke and Warren (not to mention other anti-Second Amendment extremists) actually makes you more inclined to fight for our freedoms as opposed to the effect that they sought: You to give up. If it fails for the likes of O'Rourke and Warren when they have the backing of major media outlets, what chance is there that a similarly dismissive approach to our fellow Americans will work better if we try it without that sort of media backing?
Being flexible enough to tailor your approach to winning over those who are asking question, or who even lean towards supporting restrictions and turning them into new Second Amendment supporters is not betraying any part of the Constitution or your fellow gun owners. It certainly is not being a "Fudd."
The fact is, being faithful to our ultimate goal of restoring our Second Amendment rights to their proper status is not going to happen overnight. Even if such a shift were to take place, it would be but a fleeting victory unless we are able to persuade our fellow Americans to not try to reverse it. This upcoming Supreme Court term could very well cause such a shift, and it will be incumbent on Second Amendment supporters to be ready to handle whatever ruling emerges. Many of our fellow Americans will have honest questions and legitimate concerns. In this case, flexibility will matter just as much as faithfulness to the Constitution and returning to the vision of the Founders.
---
About Harold Hutchison
Writer Harold Hutchison has more than a dozen years of experience covering military affairs, international events, U.S. politics and Second Amendment issues. Harold was consulting senior editor at Soldier of Fortune magazine and is the author of the novel Strike Group Reagan. He has also written for the Daily Caller, National Review, Patriot Post, Strategypage.com, and other national websites.