U.S.A. – -(Ammoland.com)-"A Democratic state delegate has asked Attorney General Mark Herring (D) for a formal opinion on the Second Amendment sanctuary declarations being passed in a growing number of conservative counties across the state," the Virginia Mercury reported Dec. 2. "Del. Jay Jones, D-Norfolk, said a legal opinion could help clear up confusion on an issue that has 'become a flashpoint across our state.'"
"The bills passed by the General Assembly and signed into law by the governor are binding for our entire Commonwealth and its citizens," Jones complained in his letter to Herring. "The legal precedent we would set by allowing communities to selectively ignore those laws at will is alarming and indicative of the same mindset that nearly one hundred and fifty years ago led this country to dissolve into a civil war."
See where he's going with this? The people who want the Second Amendment upheld are the same people being painted as rightwing extremists, potential domestic terrorists and, the most damning smear of all, racists. And yes, of course, Jones played that card.
"Given the recurring incidents of gun violence in Norfolk and its surrounding areas, violence that has repeatedly been shown to disproportionately harm communities of color, it is my firm belief that it is incumbent on me as their elected representative to request action from your office on this matter," Jones proselytized.
Just to be clear—rather than face up to the truth of who is doing the killings in his district, Jones is blaming the "disproportionate harm" committed by his Norfolk constituents on residents of counties like Tazewell, where the Board of Supervisors not only overwhelmingly passed a sanctuary resolution, but went a step further and passed a Militia resolution, both to overwhelming citizen approval. Who is kidding who?
But targeting them goes in hand with other proposed Intolerable Acts the Democrat majority is imposing. The prefiled anti-"paramilitary" edict is aimed squarely at that part of the population that believes in the Second Amendment as the ultimate check and balance retained by the people. So is the credit card gun purchase flagging bill, which postures to be about "homegrown violent extremists and other perpetrators of domestic terrorism."
It's curious that Jones, a politician virtually guaranteed his seat based on district demographics is complaining about Virginians in peaceable places like Tazewell County, rated "among the safest counties in the USA with 1.00 per 1,000 residents crime rate compared to national 4.69 per 1,000 average." By comparison, Norfolk's crime rate "was higher than in 85.2% of U.S. cities."
It's doubly curious that the man he's complaining to, Mark Herring, who admitted to wearing "blackface" in college. While it's tempting to excuse that as mere cognitive dissonance, what's really going on is cynical manipulation of emotions by professional political con artists intent on swindling citizens out of their birthright. If there's one thing they are sincere about, it's getting more power.
They're doing that here by tarring those adhering to "the supreme Law of the Land" as "lawless," and smearing those who advocate for the right of all people to keep and bear arms as haters.
For his part, Herring says "These laws, when they get passed, they're going to be followed."
We shall see.
---
About David Codrea: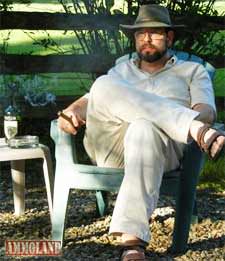 David Codrea is the winner of multiple journalist awards for investigating/defending the RKBA and a long-time gun owner rights advocate who defiantly challenges the folly of citizen disarmament. He blogs at "The War on Guns: Notes from the Resistance," is a regularly featured contributor to Firearms News, and posts on Twitter: @dcodrea and Facebook.