U.S.A. – -(Ammoland.com)- A lawsuit was filed Thursday by Stamboulieh Law, PLLC, in the United States District Court for the District of Columbia against the Department of Justice. The complaint, filed on behalf of this correspondent, was made necessary due to the DOJ's failure to turn over records relating to a Freedom of Information Act (FOIA) request seeking documentation of department actions in defense of the Second Amendment.
That requested documentation included:
Any and all Statements of Interest filed in lawsuits dealing with and/or related to the Second Amendment to the United States Constitution; and
Any and all documents and records related to enforcement of the Second Amendment via 34 U.S.C. § 12601; and
Any and all documents and records related to deliberations or discussions, including emails, correspondence or memoranda, related to protecting and defending the Second Amendment.
The reason behind the FOIA request was because of a Statement of Interest representing the United States filed by the DOJ in a First Amendment case decrying preconditions to exercising that right.
"Such extreme preconditions to speech might not be out of place in Oceania, the fictional dystopian superstate in George Orwell's Nineteen Eighty-Four," the government's statement asserted. "The First Amendment to the United States Constitution, however, ensures that preconditions like these have no place in the United States of America."
"But 'preconditions like these' have a place in the United States of America when it comes to the right of the people to keep and bear arms?" this column asked in January. "So they'll go after violations for other rights, but where the Second Amendment is concerned, state entities can do as they please without fear of federal checks? Even though infringements directly affect the 'security of a free State' by disarming the citizen Militia?"
The DOJ statement elaborated on its powers to correct infringements:
"The United States further states that the Attorney General enforces 34 U.S.C. § 12601 'which provides in relevant part that governmental authorities and their agents may not 'engage in a pattern or practice by law enforcement officers… that deprives persons of rights, privileges, or immunities secured or protected by the Constitution or laws of the United States' and that the Attorney General 'may in a civil action obtain the appropriate equitable and declaratory relief to eliminate the pattern or practice.'"
That's appropriate. We hear the term "law enforcement" all the time. Considering the whole reason we have the Constitution in the first place (as articulated in its Preamble), we hear far too little about rights enforcement. Has DOJ ever issued statements or published documents related to the Second Amendment comparable to what it has done on the First? If the answer is "No," what does that tell us?
It's too bad the department that penned those fine words decrying preconditions doesn't seem to want to let us hear more, at least as far as the right to keep and bear arms is concerned. Attorney General William Barr is certainly not shy about enforcing gun laws. So why does his DOJ appear so reluctant to enforce "gun rights"?
DOJ's required-by-law time period to comply with the FOA request has expired, as has the extended time period it requested. Expecting the nation's top law enforcement agency to comply with the nation's laws hardly seems out of line, so this action has unfortunately been made necessary by their own inaction.
And if it was a matter of COVID-19 putting a delay on things, all they had to do was ask. We're not trying to be unreasonable – it's not like anybody is going to get rich on having court costs covered — and this litigation would not have been necessary in the first place had the DOJ simply done its job.
We seek information "We the People" have a right to know, and to expect an accounting of themselves by our supposed "public servants." In response, government attorneys have instead gone on the offense with arrogant dismissals:
"In short, there is a tangled web of connections between a small cadre of firearms activists and their efforts to recover fees through largely unsuccessful FOIA litigation."
I realize none of us are self-important beltway trough-feeders with virtually unlimited access to other people's money, but we'll see about that. We did OK forcing the government to cough up court-martial records on the Texas church shooter and we're taking our chances here.
Our complaint follows:
Also see: Trump Choosing Barr for DOJ: No Favor to Gun Owners
---
About David Codrea: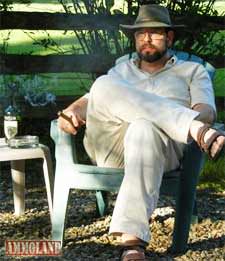 David Codrea is the winner of multiple journalist awards for investigating/defending the RKBA and a long-time gun owner rights advocate who defiantly challenges the folly of citizen disarmament. He blogs at "The War on Guns: Notes from the Resistance," is a regularly featured contributor to Firearms News, and posts on Twitter: @dcodrea and Facebook.