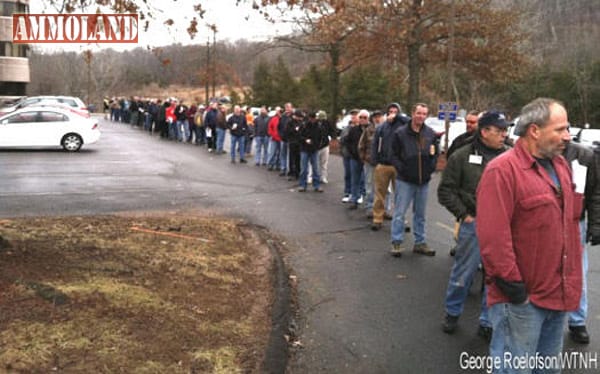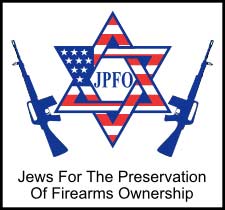 Washington, DC –-(Ammoland.com)- A now-viral photo showing a long line of Connecticut residents waiting to register their guns and ammo is circulating across the Internet — and it's sending chills down the backs of some gun owners.
Connecticut gun owners are rushing to register certain firearms and ammunition that will be considered illegal contraband in the new year.
Under a wide-ranging gun control law passed after the Sandy Hook Elementary School shooting in Newtown, they have until Tuesday to submit the paperwork with the Department of Emergency Services and Public Protection.
"Holy crap. Looks like Weimar Germany," Twitter user @votermom said of the photo.

"Another disgusting picture from Connecticut … men waiting in line to register guns with the government," user @chipwoods commented.

"First, they came for the guns," @PaulRReyes added.

"Life is too short to live in a state that does this to its residents," Twitter user @lancemfisher declared.
And there are plenty more comments where that came from.
State police say they've had people lining up early in the morning to turn in applications to keep high-capacity magazines that hold more than 10 rounds and guns considered assault weapons under the new law.
While the Connecticut Citizens Defense League believes the law is unconstitutional, it has been reminding gun owners of the deadline to make sure they don't become felons on Jan. 1 2014.
The Associated Press contributed to this report.
About:
Jews For The Preservation Of Firearms Ownership Mission is to destroy "gun control" and to encourage Americans to understand and defend all of the Bill of Rights for everyone. Those are the twin goals of Wisconsin-based Jews for the Preservation of Firearms Ownership (JPFO). Founded by Jews and initially aimed at educating the Jewish community about the historical evils that Jews have suffered when they have been disarmed, JPFO has always welcomed persons of all religious beliefs who share a common goal of opposing and reversing victim disarmament policies while advancing liberty for all.
JPFO is a non-profit tax-exempt educational civil rights organization, not a lobby. JPFO's products and programs reach out to as many segments of the American people as possible, using bold tactics without compromise on fundamental principles. Visit www.JPFO.org – Copyright JPFO 2011