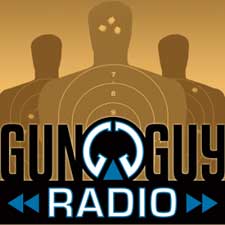 DeKalb, Illinois – -(Ammoland.com)- Jesse James is perhaps best known for his fifteen years in various reality television shows surrounding his custom motorcycle shop West Coast Choppers.
James' operations have recently moved from California to Austin, Texas and he is on Episode 115 of Gun Guy Radio to discuss his newest venture Jesse James Firearms Unlimited.
After taking a couple of years off from television and moving the motorcycle shop, Jesse James decided to turn an old hobby into a new business.
JJFU currently manufactures high quality, custom 1911 pistols and AR-15 rifles.
James tells Jake Challand that the motivation behind the business was a desire to infuse some style into the market of these two ubiquitous firearms.
James notes, "The gun industry now seems like the motorcycle industry was in the nineties when everybody was copying each other and there wasn't a lot of creativity…. For the most part it seems like everybody is just poaching off what everybody else is doing. I don't know enough about it to poach. I just want to go in and cut my own groove and do stuff a different way and carve out my own little market."
However, JJFU is not just about style.  James has partnered with STI for some aspects of the manufacture of JJFU's 1911 pistols. The AR-15 trigger includes roller bearings and is self-adjustable between two and six pounds.  James shop even hand laps and fits the upper receiver to the bolt carrier group for the best fit and smoothest operation. The company is not resting on improving these two guns, but is currently designing an AR-10 and a line of suppressors.
Currently, JJFU firearms are only available directly from the company because there are no distributors.
This is by design because it allows the company to create maximum value in the guns that they sell while still ensuring a custom touch on each gun.  Jesse James brings a unique and exciting perspective to the firearms industry and Gun Guy Radio.
Paul Levy brings the American Spirit Arms side-charging AR-15 upper receiver to The Brownell's Product Spotlight.  This upper receiver uses a non-reciprocating specific charging handle and also requires a bolt carrier with special cut in the left side. It is great for using when shooting in the prone position or in three gun competitions and application and use is very intuitive.  All of the parts required to outfit your AR-15 with the side charger upper receiver are available from Brownell's.
GGR will make you a winner in two ways.  First, if you sign up for the Gun Guy Radio email newsletter, you can be entered to win a Brownell's M16 Bolt Carrier Group.  GGR is giving away one Brownell's BCG each week for the month of April. Second, one lucky Gun Guy Radio listener will win a Bond Arms Back Up in .45 ACP.  Each gun or gear review submitted to the Firearms Insider before April 30, 2014, is a separate entry into this giveaway.  There is no limit to the number of entries that any one person can submit, but the end of the contest is coming soon. All reviews should be submitted at http://firearmsinsider.tv/submit/.
Listen to this episode at www.gunguyradio.com/115 or subscribe to the show on iTunes to listen to any of the prior episodes.  Visit the Firearms Insider Community at www.firearmsinsider.tv.
About Gun Guy Radio:
Gun Guy Radio is an on demand talk show that stays positive and leaves out the politics. The podcast features a variety of popular guests that cover a wide range of topics that firearms enthusiasts crave. Each episode delivers entertainment, education and encouragement that expands firearm ownership and knowledge to the current and next generations. Gun Guy Radio is found on the Firearms Radio Network and releases every Sunday at 12:00 pm central time. Subscribe to the email list and listen via Apple iTunes, Stitcher Radio or www.gunguyradio.com.