Fall River, KS -(Ammoland.com)- We are ramping up for the 13th Annual Bust-a-Clay for Kids' Sake Sporting Clays event.
The Pass It On, Outdoor Mentors program relies on the Bust-a-Clay for Kids' Sake event for a significant portion of the funding that allows us to provide quality outdoor experiences for kids from across Kansas.
This year, the event is scheduled for May 15-16th at Flint Oak. We will have dinner and an auction the evening of the 15th, followed by a Texas Hold'em tournament for those interested. On the 16th, we'll enjoy a hearty breakfast and spend the morning busting clays on the scenic course at Flint Oak.
To join us, all you need to do is raise $350 in pledges for the targets you break. We will have great prizes for the top 3 pledge earners. Raise $450, and you'll receive a very nice drop-point Gerber knife.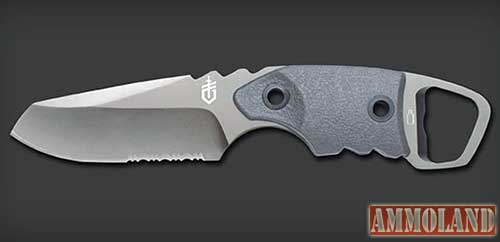 Everyone who raises more than $650 in pledges will be entered in a drawing for the following:
SilencerCo Saker 762 Suppressor
(works on .30 caliber and smaller including 308 Win, 300 AAC, .223/5.56)
Includes Trifecta RS Muzzle Brake Mount for 5/8-24
Includes NFA Trust Documents
Includes all NFA Paperwork
Includes $200 for BATFE Application
(Silencer and Services Provided by Performance Arms)
$2200 Value
The top pledge earner will be awarded the following:
Custom Remington 700 SPS Tactical 308 Win
20 Heavy Barrel with 5/8-24 Threaded Muzzle & AAC Flash Hider – 1:10 Twist
Hogue Overmolded Pillar-Bedded Stock
Stock Fitted with Picatinny Rail for Bipod Attachment
Upgraded Timney Trigger Tuned to 2.5 lbs.
Upgraded Badger Ordnance Tactical Bolt Knob
Heavy Duty Picatinny 20 MOA Scope Base
(Customized by Performance Arms)
$1500 Value
We want to thank Performance Arms for their help in making these incentives possible. To get your pledge sheet, click here and you can download it. To set up an online donation page, click here, and we'll get you started. If you can't join us this year as a shooter, please click here (Shooters List) to make a pledge for a shooter in the 2015 Bust-a-Clay for Kids' Sake event.
Thanks to your support, the Pass It On — Outdoor Mentors program is growing and expanding to serve more of our youth across Kansas and across the country.
Event Schedule:
Friday, May 15
Dinner and Auction beginning with Social Hour at 6:00pm
All shooters are invited to stay Friday evening at the luxurious Flint Oak Lodge
Saturday, May 16
Breakfast beginning at 6:30am
Sporting Clays beginning at 8:00am
Lunch beginning at noon
Awards ceremony at 1:30pm
The event is free to participants, including lodging, meals, shooting and shells for the round of clays. However, each participant must raise a minimum of $350 in pledges for the targets they break. Pledges may either be an amount per target or a fixed amount for the round of clays. Raise $450 in pledges and you will receive a very nice Gerber knife.
To register for the event, please call 316-290-8883 and ask for a Bust-a-Clay pledge sheet to be mailed to you (or click here and you can download it). Or, to set up an online donation page, click here. This event is open to one and all. Prizes and awards will be given to the top fundraisers and top shooters.
We look forward to having you join us in our efforts to get more kids outdoors.
Thank you,
Mike
About Pass It On – Outdoor Mentors
Pass It On – Outdoor Mentors is a Wichita, Kansas-based national organization dedicated to providing children with mentors who will share with them the experiences of traditional outdoor activities. The heart of the group's mission is to give children opportunities to connect with nature that they more than likely won't have without a mentor showing them the way. Partnering with organizations with like-minded conservation and youth participation efforts like Big Brothers Big Sisters, Pheasants Forever, the National Shooting Sports Foundation, Delta Waterfowl, the Rocky Mountain Elk Foundation and the National Wild Turkey Federation, among others, volunteers with a passion for the outdoors can give a child the chance to go fish, hunt, or simply spend time in the fields with a caring adult.
For more information about Pass It On – Outdoor Mentors, please visit www.OutdoorMentors.org.