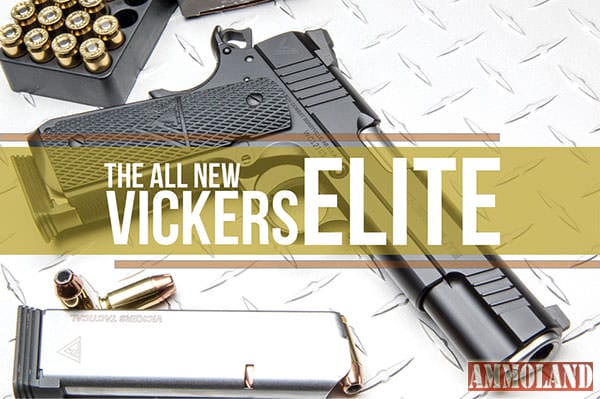 Berryville, AR -(AmmoLand.com)- Years of practical experience as an assaulter, pistolsmith, competitive shooter, industry consultant and trainer have formed the basis for the Vickers Elite-Larry Vickers' signature Wilson Combat model 1911.
The Vickers Elite combines many of our time tested custom handgun features and adds some new modifications as requested by Larry to create a unique signature pistol with universal tactical appeal.
The Vickers Elite starts with our precision machined and hand fitted forged slide and frame combination along with our match-grade barrel for impeccable reliability and precise accuracy. Renowned Wilson Combat hand-fitting to rigorous specifications yields a pistol that you can count on regardless of the shooting scenario at hand.
A special .45 caliber Wilson Combat magazine was also developed for this model with extensive input from Vickers based on his deployment experience. The Vickers Duty Magazine has a reinforced, solid tube for added strength, a newly engineered follower with sand cuts and a last round retention feature. The standard coil spring has been replaced with a stainless flatwire spring for the ultimate in long term feeding reliability in extreme environments and hard use. An extended steel base pad has been added to make this magazine the new standard for tactical use.
Larry Vickers is a retired US Army 1st SFOD- Delta combat veteran with years of experience in the firearms industry as a combat marksmanship instructor and industry consultant.
Find out more about Larry Vickers on his website www.vickerstactical.com.
VICKER ELITE SPECIFICATIONS:
Full-Size Carbon Steel Frame
30 LPI High Cut Checkered Frontstrap
Bullet Proof Round Butt Magazine Well
Bobbed High-Ride Bullet Proof Beavertail Grip Safety
Tactical Bullet Proof Thumb Safety
3 ½# – 3 ¾# Crisp Trigger Pull with Medium Length Pad
Bullet Proof Magazine Release
G10 Vickers Elite Logo Grips
Countersunk Slide Stop
5" Carbon Steel Slide
Heavy Machine Chamfer on Bottom of Slide
Battlesight with Gold Bead Front Sight
5" Stainless Match Grade Barrel and Thick Flange Bushing, Flush Cut Reverse Crown
Flat Wire Recoil Spring
Fluted Chamber
30 LPI Slide Top Serrations
40 LPI Serrated Rear of Slide
Wide Front and Rear Cocking Serrations
Ball Endmill Cuts
Call 1-800-955-4856 to order.
About Wilson Combat
For over 30 years, Wilson Combat has been the leading innovator in high-performance, custom firearms and accessories. A Wilson Combat product's unmatched level of exceptional reliability and peerless craftsmanship is only equaled by our best-in-class customer service.
For more information, visit: www.WilsonCombat.com.