U.S.A. – -(Ammoland.com)- "The introduction of the bipartisan background checks bill in the House today marks a critical first step toward strengthening America's gun laws and making our country a better place to live, work, study, worship and play," Gabby Giffords claimed in a Tuesday press release. That brief statement holds two lies and a true threat that exposes another lie.
The first lie is that this latest assault on "shall not be infringed" is any kind of "first step." NFA '34, GCA '68, FOPA '86. The Brady Act, the Clinton gun ban, the Bush import ban, and thousands of state and municipal diktats later, and the gun-grabbers are still parroting old talking points like this one from 45 years ago:
"We're going to have to take one step at a time, and the first step is necessarily — given the political realities — going to be very modest. . . . [W]e'll have to start working again to strengthen that law, and then again to strengthen the next law, and maybe again and again. Right now, though, we'd be satisfied not with half a loaf but with a slice. Our ultimate goal — total control of handguns in the United States — is going to take time. . . . The first problem is to slow down the number of handguns being produced and sold in this country. The second problem is to get handguns registered. The final problem is to make possession of all handguns and all handgun ammunition-except for the military, police, licensed security guards, licensed sporting clubs, and licensed gun collectors-totally illegal."
Gabby's second lie is that such checks will somehow make things "better." No less an authority than the National Institute of Justice admitted in its "Summary of Select Firearm Violence Prevention Strategies":
Effectiveness depends on the ability to reduce straw purchasing, requiring gun registration…
And that effectiveness would only apply to the "law-abiding," of course.
Gabby then makes a true threat that exposes another lie: Yes, the gun-grabbers will never be satisfied until they control all guns, something Nancy Pelosi admitted when she inadvertently contradicted another old lie by advocating for a "slippery slope." That's something the antis had previously ridiculed as "gun lobby" paranoia.
So it's hardly a surprise that the bill itself, starting with its purpose, is a lie:
The purpose of this Act is to utilize the current background checks process in the United States to ensure individuals prohibited from gun possession are not able to obtain firearms.
That's an impossibility and they know it, as evidenced by Baltimore, Chicago, etc.  The very people causing most of the problems won't be affected. How can a party running interference to allow (ensure) millions of illegal aliens to disperse throughout the country even pretend to be able to shut down a black market that will only grow more lethal under "progressive" rule?
Besides which, many of the acts of violence the "commonsense gun safety advocates" (another lie) exploit happened in spite of "background checks," sometimes because signals had been ignored and others because information already obtained was withheld, first from the National Instant Criminal Background Check System, and then from a Freedom of information Act request that required a lawsuit to obtain compliance.
Then there's the title of the bill, another lie, the Bipartisan Background Checks Act of 2019, When used in this sense, "bipartisan" means:
specifically : marked by or involving cooperation, agreement, and compromise between two major political parties
A handful of rogue political opportunists does not a party make. In this case, Republicans who betrayed their oaths of office, Peter King, Brian K. Fitzpatrick, Brian J. Mast, Fred Upton and Christopher H. Smith, need to not only be known, but retired. The GOP needs to understand that it will need to provide better choices to gun owners if it expects to win a district. It won't take too many losses for them to get the message and by not turning out the turncoats, there is no incentive to change. Doing otherwise is what has led us to this mess.
For now, the bill has been referred to the House Committee on the Judiciary. Expect to see great media fanfare as it advances through the stages to a floor vote, and then hold the Republican-controlled Senate's feet to the fire.
And in the meantime, consider the greatest lie of all—that this is about "background checks."
It's not. It's about ending private sales so government can identify gun owners and what they have. It's about setting the stage to take advantage of new edicts, like that idiot Marco Rubio's proposed "red flag" bill, to enable and abet future confiscations. Ditto for if they ever get that other "first step" passed, another "assault weapon" ban, they won't need to guess who's not complying, like they'll currently have to with "bump stocks."
Here's how you can prove that's the goal for yourself—if all Pelosi & Co. wanted was to make sure transfers were cleared and "prohibited persons" weren't getting guns (through the system), they'd be proposing a system like BIDS, the Blind Identification Database System, which would green light a "good" transfer but then leave no record of who bought what. That proposal has been around for years, but the rice bowl gun groups appear to be vested in the status quo.
True, BIDS would still be a form of prior restraint "gun control," so I would still oppose it. But inarguably, it would serve the same purpose as "universal" NICS without the danger of creating records that could later be compiled into a registration tool (and you know the Democrats will be going after that prohibition in the next round of budget negotiations).
As with all such schemes, the criminals and the terrorists won't be slowed down one bit. And since we're talking about chronic and habitual liars, I find a memorable scene from the classic Witness for the Prosecution strangely appropriate.
---
About David Codrea: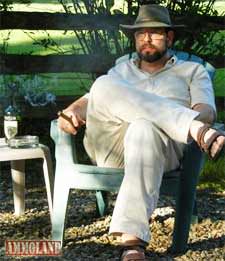 David Codrea is the winner of multiple journalist awards for investigating / defending the RKBA and a long-time gun owner rights advocate who defiantly challenges the folly of citizen disarmament.
He blogs at "The War on Guns: Notes from the Resistance," is a regular featured contributor to Firearms News, and posts on Twitter: @dcodrea and Facebook.