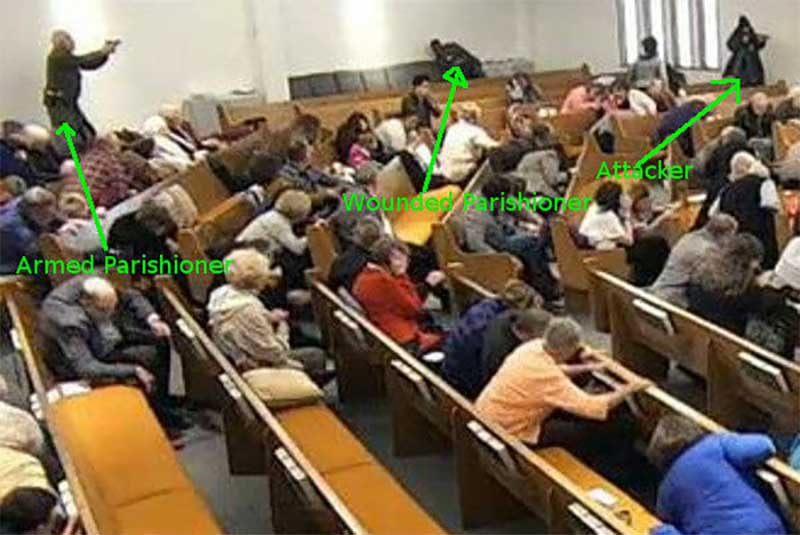 Texas – -(AmmoLand.com)- There is only one reason why the tragic shooting at the West Freeway Church of Christ in White Settlement, Texas, wasn't even more tragic: At least one parishioner at the service that was attacked by a gunman not only had the courage to act, the parishioner had the tools to effectively protect the congregation.
In other words, the would-be mass shooter, who had a lengthy criminal record that disqualified him from even touching a gun under the provisions of 18 USC 922(g), was not the only person in that church with a gun. The death toll of innocents was kept down to two. Contrast that to some known gun-free zones. You can probably think of the places where the horrific incidents took place without much prompting, where the death toll was much higher.
Let's face it: The anti-Second Amendment extremists will want this incident to fade from the collective memory of America, and many in the media will help them do precisely that. You have to admit, if you were in their position, you would want the West Freeway Church of Christ incident to be forgotten, too.
Why? Because it exposes their lack of concern for public safety, and instead reveals that they just want gun bans. When Vice President Biden attacked Texas Governor Greg Abbott for signing the legislation that removed churches from being gun-free zones back in September, he revealed how little concern he had for the ability of law-abiding Americans to protect themselves. He clearly either does not know or does not care that when seconds count in a situation like the one the West Freeway Church of Christ faced, cops are only minutes away.
This isn't the only mass shooting prevented by someone exercising their Second Amendment rights. The FBI, in a series of reports covering mass shootings from 2000-2018, noted that armed citizens stopped those incident. One notable case was the Clackamas Town Center incident, where a concealed carry permit holder named Nick Meli stopped a mass shooter without firing a shot. You'll note the media rarely talks about that, either.
But how do we replicate the legislative success that led to an untold number of lives being saved this past Sunday? Well, it's stuff that has been said before, but it needs repeating: We need to persuade elected officials to pass that legislation. In addition, we need to persuade our fellow Americans to, if not support pro-Second Amendment elected officials, then to at the very least not consider support for the Second Amendment as a deal-breaker.
Doing that, though, requires a lot of work. It requires an honest assessment of the situation. Determine what can be achieved in that situation. You need to think about the appropriate strategy and tactics. Understand the opposition and be ready to counter their moves. Carefully consider the approach you will use, be mindful of how it comes across, and build relationships with local media to reduce the risk of a poor portrayal in reports. Note the recent guidelines the Virginia Citizens Defense League sent out for their upcoming Lobby Day.
This is simple common sense when we are trying to get anti-Second Amendment laws repealed. Unless, of course, you think that VCDL has gone "Fudd" or is "capitulating" to anti-Second Amendment extremists. The fact of the matter is that gains made by Second Amendment supporters in removing gun-free zones in the wake of this incident will likely be limited not by the conniving of anti-Second Amendment extremists but instead from poorly-thought out advocacy on Second Amendment issues.
---
About Harold Hutchison
Writer Harold Hutchison has more than a dozen years of experience covering military affairs, international events, U.S. politics and Second Amendment issues. Harold was consulting senior editor at Soldier of Fortune magazine and is the author of the novel Strike Group Reagan. He has also written for the Daily Caller, National Review, Patriot Post, Strategypage.com, and other national websites.