U.S.A. – -(Ammoland.com)- "Police Photos From Scene of Overdose Incident Involving Florida Dem Andrew Gillum Reveal Crystal Meth, Erectile Dysfunction Drugs," The Washington Free Beacon reported Thursday. "Police were called in the early hours of March 13 by one of the men, who told officers he arrived in the room to find Gillum vomiting in the bathroom and a second person non-responsive on the bed."
Falling back on the old standby of those who are caught red-handed, Gillum uttered some weasel-worded BS dragging his family further into the humiliating mess of his creation, and, of course, announced he was doing rehab. Tell me if this had been you or me in this situation—which of course it would not have been—that any treatment wouldn't have been conducted inside a facility with bars.
Naturally, he was not arrested. From the looks of reports, police let him go home "without incident," meaning they were aware of who Gillum was and behaved themselves accordingly.
This was the man who was almost elected governor of Florida, the chief executive responsible for ensuring laws were upheld. Had he been elected, he'd have worked to criminalize the rights of citizens who aren't caught vomiting in hotel rooms with drugs.
"When we win, we are going to ban assault weapons in Florida," Gillum had threatened during the campaign.  No wonder he was supported by the Democratic Socialists of America, the subversive group that tried to hide its "revolutionary" songs, which now are only accessible via the Internet Archive, and that featured such tolerant and inclusive lyrics like:
"And when the revolution comes, We'll kill you all with knives and guns"
You see why they need to take ours first.
Gillum is just another in a long line of Democrats who won't control themselves yet harbor a megalomaniacal obsession to control everybody else. Think criminal Bloomberg mayors and Leland Yee.
Curiously, aside from Fox News, national networks and major newspapers aren't showing much interest in sharing this story. Cases in point, there is nothing about this latest development on CNN's website or from The New York Times.
Perhaps if he were a Republican…?
One major social media player has gone so far as to suppress newsworthy information involving such a major Democrat political figure. Twitter suspended actor James Woods over sharing such information, while the narrative spinners played the race card, actually having the shameless and calculated gall to call it "the terrorizing of Black life" to chill further dissemination.
It would be nice to think that Gillum's days in politics are over, but to paraphrase H.L. Mencken:
No one in this world … has ever lost money by underestimating the intelligence of Democrat constituencies. Nor has anyone ever lost public office thereby.
It would be a shame if somebody "red-flagged" him. No?
---
About David Codrea: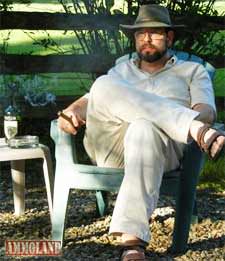 David Codrea is the winner of multiple journalist awards for investigating/defending the RKBA and a long-time gun owner rights advocate who defiantly challenges the folly of citizen disarmament. He blogs at "The War on Guns: Notes from the Resistance," is a regularly featured contributor to Firearms News, and posts on Twitter: @dcodrea and Facebook.