Final Pre-Trial Briefs Filed In NRA/CRPAF Lawsuit Challenging California Ban On Mail Order Ammo Sales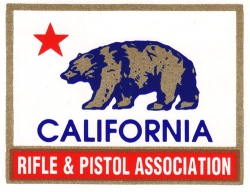 Sacramento, CA –-(Ammoland.com)- On January 7, 2011, The California Rifle and Pistol Association Foundation (CRPAF) filed a Reply brief and supporting material for Plaintiffs' Motion for Summary Judgment and trial brief in their case challenging AB 962.
A trial is set for January 18, 2011 – just days before the portion of the law that bans mail order sales of "handgun ammunition" is set to take effect on February 1, 2011.
The lawsuit, Parker v. California is funded exclusively by the NRA and the CRPA Foundation. It seeks a court order declaring the statutes enacted by AB 962, which impose burdensome and ill conceived restrictions on the sales of ammunition, to be unconstitutional, and seeks injunctive relief prohibiting police from enforcing the new laws.
The lawsuit alleges that AB 962 is unconstitutionally vague because it fails to provide sufficient legal notice of what ammunition cartridges are "principally for use in a handgun," and thus is considered "handgun ammunition" that is regulated under AB 962. It is practically impossible, both for those subject to the law and for those who must enforce it, to determine whether any of the thousands of different types of ammunition cartridges that can be used in handguns are actually "principally for use in" or used more often in, a handgun. The proportional usage of any given cartridge is impossible to determine, and in any event changes with market demands. In fact, the legislature itself is well aware of the vagueness problem with AB 962's definition of "handgun ammunition" and tried to redefine it t via AB 2358 in 2010.
AB 2358 failed in the face of opposition from the NRA and CRPA based on the proposal's many other nonsensical infringements on ammunition sales to law abiding citizens.
Constitutional vagueness challenges to state laws are extremely difficult to win, particularly in California firearms litigation.
While we are cautiously optimistic, ammo suppliers and sellers must be ready to comply with the law if the court upholds it. A Compliance Guide is forthcoming, but unfortunately the law raises more questions than it answers, and the California Department of Justice Firearms Bureau is providing no assistance in interpreting the new laws. Nonetheless, the Compliance Guide will include information obtained from DOJ through this litigation and much more, along with template forms which can be used by ammunition vendors. The Compliance guide will be released and distributed no later than January 18, 2010 on www.calgunlaws.com and www.michellawyers.com. Sign up at www.calgunlaws.com to be notified.
The Parker lawsuit is the only remaining court challenge to AB 962. A federal judge last month dismissed two other cases (OOIDA v. Lindlley and State Ammunition v. Lindley) challenging AB 962 on other grounds. NRA was also a party to and sponsor of the OOIDA case.
Significantly, the Parker briefs argue that a heightened standard of legal scrutiny should be applied to the court's vagueness analysis because of AB 962's impact on the fundamental Second Amendment right to keep and bear arms. Generally, under the vagueness doctrine statutes are subjected to heightened scrutiny, and must provide more certainty in what they require, when the laws being reviewed "impact," "relate to," or "implicate" constitutionally protected conduct. The Parker case presents a novel question of law that could set a precedent for future vagueness challenges because such heightened standards of legislative clarity have thus far only been applied in cases involving statutes impacting other constitutional rights such as freedom of speech, the right to choose to have an abortion, and the right to travel. The Parker briefs argue that blanket prohibitions on how "handgun ammunition" is purchased, and a thumb print requirement for every purchase of such ammunition, necessarily "implicates" or "relates to" the Second Amendment right to maintain an operable handgun to exercise the fundamental right to self defense. So in addition to the obvious benefit of the ill-conceived AB 962 potentially being declared unconstitutional, a ruling that statutes that impact Second Amendment rights deserve heightened Due Process legal scrutiny by courts would be helpful in the development of Second Amendment jurisprudence.
Win or lose, additional legislation on this and related subjects will no doubt be proposed in Sacramento this legislative session.
It is absolutely critical that those who believe in the right to keep and bear arms stay informed and make their voices heard in Sacramento. When AB 962 passed there was loud outcry from law abiding gun owners impacted by the new law. Those voices must be heard during the legislative session and before a proposed law passes, not after a law is signed. To help, sign up for legislative alerts at www.calnra.com and respond when called upon.
Seventeen years ago the NRA and CRPA joined forces to fight local gun bans being written and pushed in California by the gun ban lobby. Their coordinated efforts became the NRA/CRPA "Local Ordinance Project" (LOP) – a statewide campaign to fight ill conceived local efforts at gun control and educate politicians about available programs that are effective in reducing accidents and violence without infringing on the rights of law-abiding gun owners. The NRA/CRPA LOP has had tremendous success in beating back most of these anti-self-defense proposals.
In addition to fighting local gun bans, for decades the NRA has been litigating dozens of cases in California courts to promote the right to self-defense and the 2nd Amendment. In the post Heller and McDonald legal environment, NRA and CRPA Foundation have formed the NRA/CRPA Foundation Legal Action Project (LAP), a joint venture to pro-actively strike down ill-conceived gun control laws and ordinances and advance the rights of firearms owners, specifically in California. Sometimes, success is more likely when LAP's litigation efforts are kept low profile, so the details of every lawsuit are not always released.
To see a partial list of the LAP's recent accomplishments, or to contribute to the NRA/CRPAF LAP and support this and similar Second Amendment cases, visit www.crpafoundation.org. All donations made to the CRPA Foundation will directly support litigation efforts to advance the rights of California gun owners.
Also, please register at www.CalGunLaws.com and www.crpa.org to receive up to the minute updates on this and other California litigation efforts as it becomes available. Www.CalGunLaws.com is produced by the law firm of Michel & Associates, P.C. as a pro bono effort to keep attorneys and interested firearm owners informed on the existing laws and latest legal developments in California. It includes a link to the highly effective www.calnra.com California legislative status and grassroots action page.
About:
The California Rifle and Pistol Association "CRPA," founded in 1875, is dedicated to defending the rights of law-abiding citizens to responsibly use firearms for self-defense and the defense of their loved ones, for sport, and for all other legal activities. CRPA is the official state association of the National Rifle Association. A California non-profit association, CRPA is independently directed by its own Board of Directors. CRPA's members include law enforcement officers, prosecutors, professionals, firearm experts, the general public, and loving parents. CRPA has always worked to reduce the criminal misuse of firearms and firearms accidents, while actively promoting and organizing the competitive shooting sports and Olympic training programs in California. We are proud to say that many CRPA competitors are among the best in the world. Visit: www.crpa.org