MSI Files Suite Against MSP Over Privacy Concerns
Final Emergency Regulations Proposed
MSI General Meeting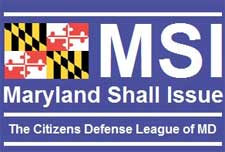 Maryland ––(Ammoland.com)- Today MSI, in partnership with the Maryland Licensed Firearm Dealers Association, the Associated Gun Clubs of Baltimore, the Maryland State Rifle and Pistol Association and a John Doe citizen, asked a Maryland State Court for a Temporary Restraining Order to stop the Maryland State Police from routinely sending your name, address, driver's license number and social security number over the internet without any form of encryption.
You read that right: the state has been sending your information over unencrypted, unprotected links to a police website that used no SSL protection. Worse yet, they gave shared passwords to more than 100 other people who could go into their regulated firearms applicant database and perform historical checks on anyone they wanted. The lack of specific usernames and controls means that they could do what they wanted with no fear of being caught. And topping the list, they apparently sent all this over the internet in a manner that any person could intercept the data – including username and password – and steal your identity or access the database from a McDonald's parking lot!
The State Police also used employees from other state agencies to go through your private data and put into the database – none of whom are subject to the same degree of background investigation as police personnel or subject to the direct oversight and supervision of the State Police. This violates state law, which allows only the State Police to call upon certain identified police personnel for assistance in processing firearm applications. In addition, the data security protocols used by the State Police fall far short of those required by the state's own Department of Information Technology: The use of only a single group username and password, rather than individual credentials necessary to trace specific activity to particular individuals and the use of insufficiently secure computer systems exposed to potential third-party access and other risks of data security breach are just the two most glaring oversights in this process.
We say laws were broken, and because applicants' sensitive and confidential personal information contained in pending firearm applications may be compromised by the State Police's practice, plaintiffs have asked the court to order the State Police to stop these unlawful actions immediately and to never do it again. You can view the Verified Complaint here.
This is the first in a long line of specific, targeted measures that will be taken and brought to court. MSI will continue to seek relief from actions, regulations and laws that infringe upon your rights. MSI is an all-volunteer grass roots organization and these fights are not without financial burden.  Please consider donating to MSI so that we can continue to fight and have our day in court.
Thanks again for your continued support. We will provide more updates as the situation unfolds.
Review our presentation about this issue.
Final Emergency Regulations Proposed
The Joint Committee on Administrative, Executive and Legislative Review will conduct a hearing on September 23rd at 1pm on the emergency regulations proposed to implement SB281. It is important that 2nd Amendment supports make a strong showing in Annapolis on this day to point out the problems with the regulations. Please review this MSI Update for details on the hearing. 
It is essential that we have a strong list of discrepancies between these rules and SB281. We have set up a crowd source project to do this. We are asking people to review the proposals and submit discrepancies to [email protected] We will be awarding prizes to those who find the best discrepancies.
Emergency Regulations 1
Emergency Regulations 2
With Project Crowdsource we are specifically looking for portions of the law that are:
-are illegal under existing law
-incompatible with existing law
-self-contradictory
And the portions of COMAR that:
-directly conflict with SB281 text
-do not exist within SB281
-are unenforceable
Please do not complain about the law itself, that is settled at the moment. We need to focus on it's implementation.
MSI Annual Meeting September 22, 2013
MSI annual meeting will take place at the Earleigh Heights Volunteer Fire Company in Severna Park MD on Sunday, September 22, 2013. The agenda for the meeting will include the Election of Officers and the Board of Directors, revisions to the bylaws, and our plans for moving forward into 2014.
The halls' location is:
Earleigh Heights Volunteer Fire Company
161 Ritchie Hwy
Severna Park, MD 21146
A meeting of Maryland Shall Issue® Executive Members will begin at 10:30am to be followed by a meeting of the general membership at 1:30pm. For those attending both meetings there will be a short break for lunch.
The general membership meeting will conclude with a keynote speech by Emily Miller, Washington Times columnist and author of Emily Gets Her Gun but Obama Wants to Take Yours. Ms Miller will be available for a book signing after the meeting so if you can, bring your copies of the book for signing.
Due to the high turnout expected, we are asking everyone attending to RSVP through out website at https://marylandshallissue.com/msi-meeting-rsvp/
Maryland Shall Issue, Inc.
1332 Cape Saint Claire Road #342
Annapolis, Maryland 21409
240-446-6782
Mission Statement: Maryland Shall Issue is an all volunteer, non-partisan effort dedicated to the preservation and advancement of all gunowners' rights in Maryland, with a primary goal of CCW reform to allow all law-abiding citizens the right to carry a concealed weapon; and to the education of the community to the awareness that 'shall issue' laws have, in all cases, resulted in decreased rates of violent crime.