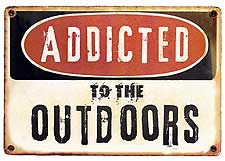 TAMPA, FLORIDA – -(Ammoland.com)- After seven months of searching, the Addicted to the Outdoors (ATTO) television show and JBO Production announced the hunt for the next Addicted Couple ended successfully.
"We searched the country for couples who shared our addiction to the outdoors and the outdoor family lifestyle," said Jon Brunson, co-host of ATTO with his wife Gina.

"We were looking for couples who wanted a chance to show their hunting passion to the world and have a chance to star on an episode of our television show, which airs on the Outdoor Channel."

The search was so popular three couples were selected to star alongside Jon and Gina Brunson in 2014.
The Addicted Couples are: Beau and Dawn Jensen of Northwood, Iowa; Robin and Jason MacPherson of Mountain Grove, Mo.; and Justin and Lindsay Jackson of Tuskahoma, Okla.
"We connected with dozens of avid outdoorsmen and women," Gina added.

"They were folks who were just like Jon and I. They eat, sleep and live the hunting lifestyle and share their passion with their families. We reviewed scores of applications and hunting video samples, and interviewed numerous couples. So we're excited to finally begin filming with the Jensens, MacPhersons and Jacksons this fall."
Look for Beau and Dawn, Robin and Jason, and Justin and Lindsey on air in July 2014. Also keep up with their adventures on Addicted to the Outdoors online or subscribe to the ATTO newsletter.
The mission of the Addicted Couples program is to shine a spotlight on family participation in the outdoors, and on couples who make the outdoors more than a hobby – but a lifestyle.
"This year's search was just the beginning," Jon added. "We plan to continue and expand Addicted Couples, so stay connected for updates."